Unitrust was selected as the science and technology innovation voucher service agency of Guangdong Province
On November 7, 2019, The Department of Science and Technology of Guangdong Province publicized the list of Science and Technology Innovation voucher service institutions (the second batch) of Guangdong Province in 2019. Guangdong Hengxinyuan Intelligent Equipment Co., Ltd. is the only one identified as the Innovation voucher service provider of Guangdong Province in This batch of Zhaoqing City. Guangdong Hengxinyuan Intelligent Equipment Co., Ltd. is a manufacturer of packaging equipment, including the planning, design and manufacture of packaging production lines for packing machine (mask packing machine, aluminum foil packing machine, hardware packing machine, etc.) unpacking machine, packing machine, sealing machine, folding machine (aircraft box, Tiantian cover folding machine, etc.).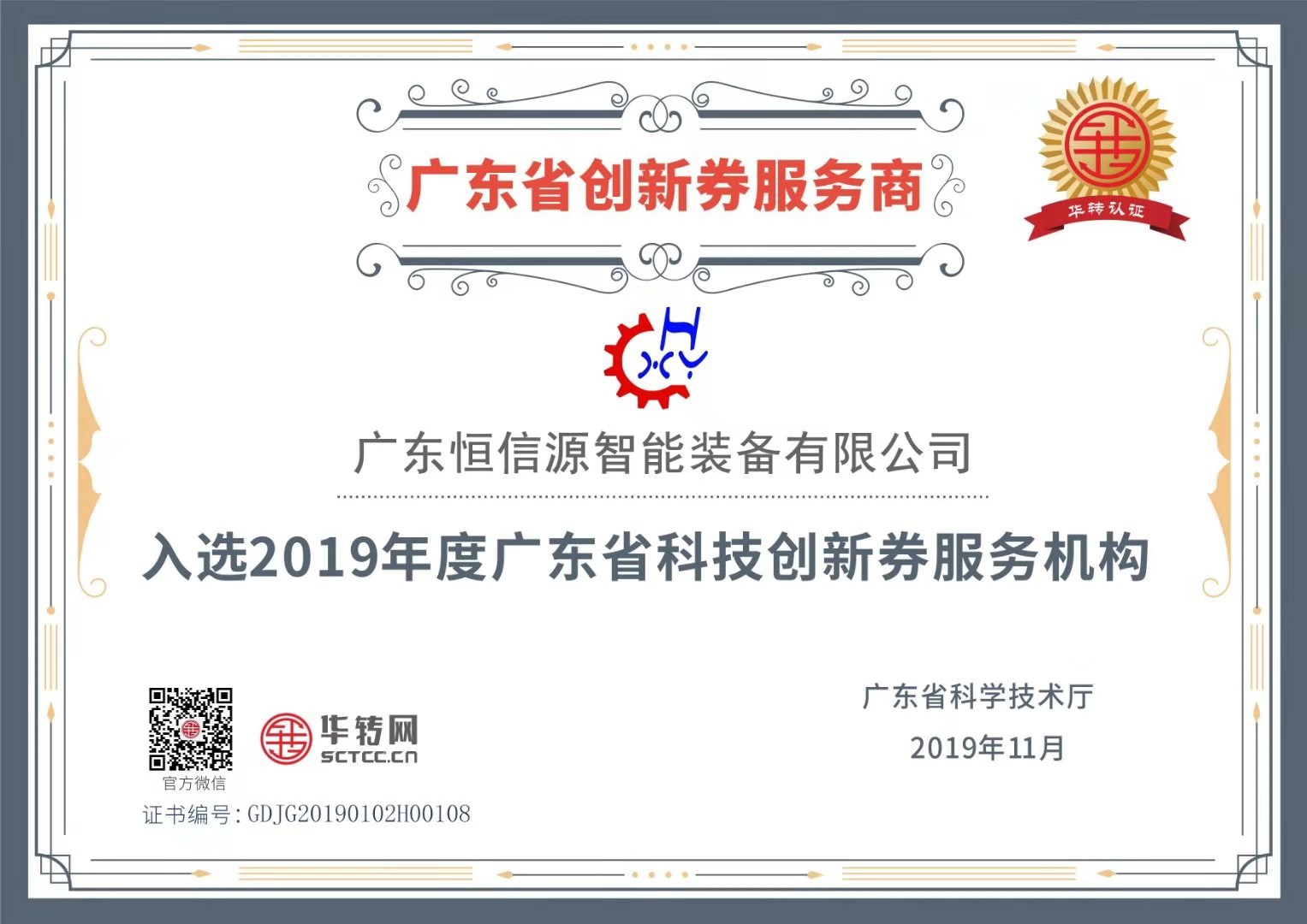 Science and technology innovation coupons refer to those service institutions that provide science and technology services for small, medium and micro enterprises and makers. Those service institutions that have applied for warehousing at the Commission of Science and Technology Innovation issue science and technology innovation vouchers to enterprises that need technical services. The vouchers will be equivalent to coupons to deduct technical service fees. Service institutions refer to enterprises, institutions of higher learning, scientific research institutions and scientific and technological service institutions that provide scientific and technological services such as research and development, technology transfer, inspection and testing certification, business incubation, intellectual property rights, scientific and technological consultation, science and technology finance, and popularization of science and technology.
This year, the provincial science and technology innovation voucher mainly supports three service fields, including research and development, inspection and testing, and sharing of large scientific instruments and facilities. In the development of packaging industry, Hengxinyuan strives to build the packaging machinery production and marketing base in South China, and has established the packaging machinery Engineering Technology Center, which has been successively recognized as a national high-tech enterprise, zhaoqing Municipal Packaging Machinery Engineering Technology Center, and a technology-oriented small and medium-sized enterprise. Unitrust actively provides technology commissioned development services, technology transfer, technology solutions and other services for small, medium and micro enterprises and makers, which have aroused good social response and been recognized by relevant provincial and municipal departments.